Melittiin for Sale | Omizzur Peptide
Bee venom is a light yellow transparent venom secreted by the glands of worker bees, with an aromatic odor. Its chemical components include active enzymes, peptides, sugars, lipids, amino acids, and amine substances. Among them, melittin is an important component with strong biological activities in bee venom.
What is Melittin Peptide?
---
Melittin is a component of bee venom. It constitutes approximately 50% of the venom's weight. Melittin consists of 26 amino acids. Melittin has many functions and can interact with biofilms, causing various reactions in their performance.
Melittin, found in bee venom, has many health benefits like fighting tumors, reducing inflammation, relieving pain, and fighting viruses. It has promising medical value.
Melittin for sale sequences:
H-Gly-Ile-Gly-Ala-Val-Leu-Lys-Val-Leu-Thr-Thr-Gly-Leu-Pro-Ala-Leu-Ile-Ser-Trp-Ile-Lys-Arg-Lys-Arg-Gln-Gln-NH2
Studies on the Multiple Pharmacological Effects of Melittin:
---
1. Antitumor Effect:
Melittin has multiple effects on tumor cells. It kills tumor cells, stops tumor growth and spread, and prevents tumor cells from multiplying and spreading. Additionally, it causes tumor cell death. Melittin also has the ability to regulate the immune system and enhance the effects of chemotherapy.
2. Anti inflammatory and analgesic effects
Melittin can promote adrenal cortical hormone secretion by reducing the permeability of capillaries, inhibiting white blood cell migration, and synthesizing prostaglandin E2. Melittin can effectively inhibit prostaglandin synthetase, with a 70 fold effect compared to indomethacin, a 40% analgesic intensity compared to morphine, and a longer analgesic duration.
3. Bactericidal effect
The research community generally believes that melittin has hormonal like effects and is toxic to various fungi and viruses. The experiment found that there are three ways in which melittin can kill pathogenic bacteria. Firstly, after melittin is integrated into the plasma membrane, vacuoles form, leading to material leakage in the bacteria; The second is the plasmolysis type, where cells undergo lysis and death; and the formation of vacuoles in cells can induce cytoplasmic cavities, leading to cell death.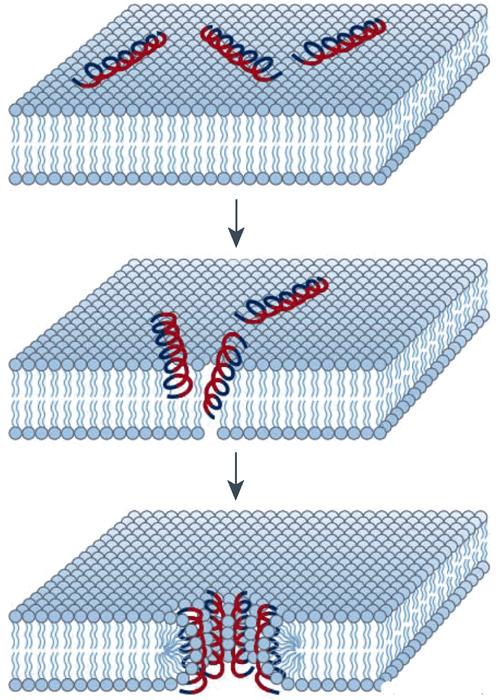 (Melittin penetrates the cell membrane)