Microwave Technology accelerate Peptide Synthesis

Microwave is an electromagnetic wave whose frequency is about 300MHz-300GHz, which means the wavelength is in the range of 0.1mm to 100cm. It lies between the infrared radiation and the radio waves of the electromagnetic spectrum .Microwave has the following characteristics in polypeptide synthesis: accelerate reaction and enhance the inversion rate;also the structure of the reaction product was not changed under microwave irradiation.
The application of microwave in peptide synthesis has very prominent advantages,The rate of organic synthesis under microwave irradiation can be increased several times or even thousands of times.As microwave can improve the reaction speed and productivity, it nowadays become a hot point in peptide synthesis.
Microwave technology makes microwave penetrate into the material by heating method, and the polar intermolecular interaction with the material is converted into heat energy, it makes the internal molecule can obtain heat in a very short time, and also increase the molecule energy and the frequency of molecule collision ,which make the peptide synthesis reactions have higher coupling efficiency and make it possible for long peptide and difficult peptide synthesis that were unimaginable in the past years.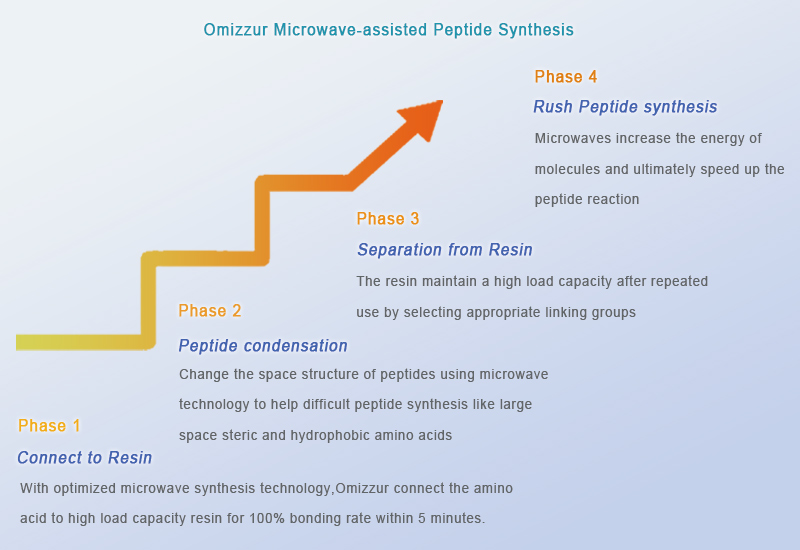 References
1.Merrifield RB.Solid phase peptide synthesis.1.The synthesisofa tetrapepfide [J].J.Amer.Chem.Soc.1963,85(20):2049-2154
2.Bayer E.Mutter M.Liquid phase synthesisi of peptides[J].Nature,1972,237:512-513
3.Yu HM.er al.Enhanced coupling efficiency in solid phase peptide synthesis by microwave irradiation [J]/Org.Chem.1992,57(18):4781-4784
4.Sebestik J.et al.Utilization of microwave technique for cleavage of acid-labile groups in peptide chemistry [J].Chemicke Listy,2001,95(6):365-367